SIM Card Data Recovery Software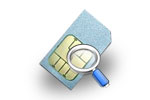 Sim card data recovery software easily recovers all deleted text messages and phone book contacts numbers from the Sim card of the mobile phone. The software allows you to view information including deleted contacts numbers and text messages. The advance feature facilitates generating the report which allows viewing date and sending time of text message.
SIM card data recovery software has been developed to securely recover all deleted text messages of most commonly used mobile phones. The software examines the Card with the help of USB Card reader (any PC/SC Standard or Phoenix Standards Reader) and recovers deleted information quickly and successfully. Retrieve SMS, Last dialed and fixed dialed number of any country/network service provider from mobile phone contact device. Provide full detail of the sim card like its Service provider name, Location/Manufacture of Sim card, Card identification number, IMSI number printed along the SIM card chip.
Note: Sim card reader is a hardware device which is used to connect SIM card of any mobile phone on Computer PC to access information stored in the Sim card.
Software Features:
Easily recover all deleted text messages and phone book contact numbers.
Recovers accidentally deleted inbox sms, outbox sms, sent items, drafts and contact numbers.
Support any PC/SC Standard or Phoenix Standards based sim card Reader.
Recovers SMS messages and contact numbers that are not readable by your mobile phone.
SIM card recovery software is read only and non destructive data recovery utility.
Utility provides full backup facility of your cell phone card memory.
Software regains all your deleted entries using card reader and personal computer.