FAT Data Recovery Software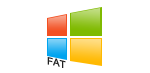 FAT partition data recovery software is fully capable to recover and retrieve all important data files and folders lost from logically corrupted FAT12, FAT16, and FAT32 partitioned file system on Windows VISTA, Windows XP, Windows 2000, Windows 98 and Windows 2003 operating system. FAT data recovery Software rescue data even if root directory, boot sector or file allocation table entries are corrupted and similarly from damaged formatted reformatted overwritten or previously existing partitions.
Software has capabilities to handle data recovery of all major types of disk crash errors of MBR (Master Boot Record, DBR (DOS Boot Record) FAT tables and Root Directory entries from fixed internal hard drive of your PC as well as external USB drives and other storage media connected to your computer.
Software Features:
Recovers data lost due to formatted, damaged, overwritten, deleted or corrupted partitions in all logical crashes.
Provides in-built step-by-step data recovery help.
Recover files or folders from previously existing partitions.
Support all major hard disks and other storage media including all IDE, SATA, EIDE and SCSI disk devices.
Recovers deleted files and folders even emptied recycle bin folder, lost/missing/deleted partition formatted logical drives, missing or lost files and folders.
Software supports all major FAT12 FAT16 FAT32 file system.
Best graphical user interface (GUI) for easy data recovery.