NTFS Data Recovery Software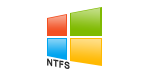 NTFS partition data recovery Software is used to recover data, files and folders from Windows NT/ 2000/ 2003 / XP operating system which support to NTFS or NTFS5 file system. The program can recover data lost due to overwritten/ deleted/ formatted/ corrupted/ hard disk partitions. The Software provides easy to use GUI (Graphical user interface) providing fastest data retrieval access to data. The Software is safe and easy to operate and there is no need of training to operate and can be executed by non-technical person.
Software Features:
Recovers data from logically corrupted damaged NTFS or NTFS5 created partitions.
Recovers data lost due to deleted, formatted, overwritten, damaged or corrupted partitions in all logical crashes.
Retrieve data from damaged MBR boot sector or partition table.
Recovers deleted files and folders even after use of Shift+Del key and emptied recycle bin.
Provide easy user interface for quickest data recovery.
Preserve long file and folders recovery support.
Easy to use software even for the non-technical person!