MySQL to MSSQL Database Converter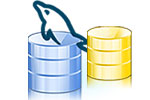 Cost-efficient MySQL to MSSQL Database Converter Software entirely convert your bulk database or selected particular tables record from MySQL database to MSSQL database server in few minutes time. As per the user choice software is capable to convert single or more than one table with support to all indexes, primary keys, necessary attributes, and default values (including null values, unique and primary key constraints).
Database converter tool perform conversion easily and accurately even if user want to inherit MySQL data into new database or overwrite the contents of an existing MSSQL database. Easy-to-use GUI (Graphical user interface) interface is provided by the Converter for MySQL to MSSQL Database and support all major MySQL attributes, data types and major versions of MySQL database.
Software Features:
Software Work with all major versions of MySQL.
Software converts individual tables or more than one table as per your choice.
Software provides facility to convert database into new destination database, or merge with existing destination database.
Software is easy to use and perfectly understandable by even layman user.
Easy-to-use wizard-style GUI interface is provided by software.