DDR Professional - The Speedy & Mighty Data Recovery Software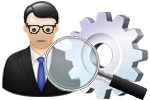 DDR Professional Recovery is an exclusive data recovery program to salvage lost data from your fixed drive (including Laptop, Desktop systems) or commonly used Memory card, USB drive, Mobile Phones, Music players, Digital cameras and other similar portable USB devices. Software easily works on Windows environment including Windows 7/Vista/XP/Server 2008/Server 2010 OS installed. Software is very easy to use with interactive GUI interface without requiring any prior technical skills to operate it.
Advanced feature of the software restore data from all major storage media when lost using them on Apple Macintosh, Linux or MAC OS X operating systems. To recover data from affected devices, simply connect such storage devices to your Windows Machine having DDR Professional Installed and run the Software.
Software Features:
Incidentally deletion of important information
Data lost from formatted/reformatted disk drive
Files deleted from recycle bin folder or using Shift+Del keys
Files corrupted due to virus corrupted drives
Loss of data due to unexpected system shutdown failure
Corrupted Operating System
Power faults
Corrupted media
Data lost due to software crash
Data deleted due to Improper handling of device