Barcode Label Generator Software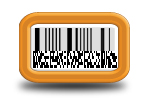 Best and easy to use Barcode Label Generator Software creates barcode labels, tags or barcode stickers in easiest way. Barcode maker software facilitates to generate barcode labels supporting various Linear and 2D barcode font standards including PDF417, QR Code, MICR Font, Code 39, Codabar, MSI Plessey, Interleaved 2 of 5 and more. Cost effective barcode tags creator utility support to build the barcode asset labels in JPEG, BMP, WMF, EMF, EXIF, GIF and other similar image format.
Flexible and robust barcode label builder software wizard is available to generate the barcode labels in bulk either using Random, Constant value or Sequential barcode series generating options, and facilitate to save generated barcode labels at user specified safe location on your Desktop/Laptop computer. Highest quality barcode labels builder utility provides to make the barcode tags according to user requirements with the option to change barcode color, font, caption color and background color. You can easily output generated barcode labels in printable format according to need and requirement.
Software Features:
Easily generate professional barcode labels in JPEG, TIFF, Bitmap, PNG, WMF, EMF, EXIF and GIF image format.
Facilitate to create barcode images in standard Linear and 2D font codes including Code 11, Codabar, Code 39, Code 93, Interleaved 2 of 5 and MSI Plessey.
Provide facility to build barcode stickers in bulk either generating randomly or sequentially barcode series.
Facilitate to save generated barcode labels at user specified location.
Facilitate to change barcode color, fonts, caption color and background color for good quality barcode label generation.
Facilitate to hide barcode caption or text during barcode labels creation.
Easy to use software supports every major barcode scanners used to verify the barcode labels.
Highly interactive user friendly software is useful in Retail sector, General stores, Garment industries, Food Industry, Automobile industries and many more.
Linear Barcode Fonts:
Codabar, Code 11, Code 128, Code 128 SET A, Code 128 SET B, Code 128 SET C, Code 39, Code-93, Code 39 Full ASCII, EAN-13, EAN 8, Industrial 2 of 5, Interleaved 2 of 5, ISBN-13, ITF-14, LOGMARS, MSI Plessey, Planet, Postnet, Standard 2 of 5, UCC/EAN-128, UPCA, UPCE, UPSC Stack Label Font, UPSC Tray Label, USS-93, Telepen.
2D Barcode Fonts:
Aztec, PDF417, Databar, UPCE, Databar Stacked Omni, Databar, MICR, DataMatrix, Databar Truncated, Databar Code 128, Databar EAN 8, MaxiCode, Databar EAN 13, Databar Code 128 Set A, Databar MicroPDF417, Databar Expanded, QR Code, Databar Code 128 Set B, Databar PDF417, Databar Limited, Databar Code 128 Set C, Databar UPCA, Databar Stacked.